Burlington Chiropractor Success Stories
Success stories like these affirm the reason why I became a chiropractor. I am grateful for the opportunity to play a role in my patients' journey toward better health. My hope is that these stories inspire you to consider a more natural, holistic approach to your health, and demonstrate my dedication to helping you realize your unique health goals.
I look forward to helping you evolve into the healthiest version of you!
Sincerely,
Dr. Laura Lardi, B.Sc., D.C.
---
Warm & Welcoming
Dr. Lardi is amazing! Very warm welcoming atmosphere. I like the fact that she cares and treats her clients as a whole -person. Dr Lardi spends the time to educate her clients. I have seen and feel the difference in my posture and my body. Thanks Dr.Lardi!
Trecia McD.
Pain Relieved
I came in to the office in a lot of pain and Laura made me feel at ease right away. I am so happy with the treatment I am receiving. I could not walk without crying and having so much pain. Dr. Laura has helped me feel so much better. I am extremely happy with how she is taking care of me.
Julie L.
Scoliosis
Since I started my treatment [for Scoliosis], my posture has drastically improved, my chest pain had stopped, I'm breathing easier, and I can exercise without pain. I have had significant improvement in my overall health and mobility. I would strongly recommend Dr. Lardi as a chiropractic professional. I am in my 40's and have scoliosis, and the results of her treatment has far surpassed my expectations and has greatly improved my posture and mobility.
G.H. of Halton
I had been told for 25 years that there was nothing I could do to "fix' or "correct" my scoliosis. Well I happy to say that after a year of treatment with Dr. Lardi I am forever changed…it's MY jaw dropping at the visible changes. I just can't BELIEVE how different I feel in one year. I came to Evolve for Chiropractic care and to hopefully have some physical changes occur, but I got more than that…..my whole spirit has been changed. I am forever grateful.
Shannon A.
Colic/Gas/Fussy
My baby was quickly on the way to digestive comfort and lots of gummy smiles! Needless to say our home is a far more relaxed and enjoyable place to be. I only wish I had been familiar with Evolve chiropractic when I had my first baby four years ago.
Carrie W.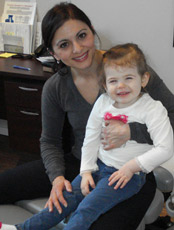 Constipation
If I hadn't experienced it, I wouldn't have believed that chiropractic care could have helped. We are so grateful and would recommend Dr. Lardi to anyone who is suffering from constipation.
Andrea S.
Since she has been seeing Dr. Lardi, my child has not any ear infections, and she has also not been severely constipated. I would recommend Dr. Lardi to anyone whose children suffer from constipation and/or ear infections as she has made a difference in my kids lives.
Melissa K.
Pregnancy and Webster
After my first adjustment, I already felt a huge difference in my comfort levels. All of this was icing on the cake, as within five adjustments, I had the fabulous confirmation from my obstetrician – the baby had turned!!! This overwhelmingly positive experience with chiropractic work while pregnant has opened my eyes to how beneficial adjustments are and I look forward to continued health benefits for not only myself, but my children.
Gina Baker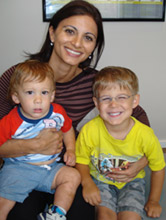 Ear Infections
Nicholas' results were immediately successful. He has had no ear infections since we began our first treatment.
I took him back to see his ENT and he said Nicholas' ears had no fluid. We cancelled his surgery. We are very grateful and would strongly recommend chiropractic care to any parent whose child is suffering from acute or chronic ear infections.
Christina G.
Family Wellness
Since I began treatment, I can now walk without pain. I cannot begin to tell you how flexible my body feels – no more stiffness. I no longer take pain killers. I was relieved of all the pain that I was feeling. My body has improved tremendously.
Jasvir D.
Plagiocephaly (Flat Spot)/Torticollis
I met Dr. Lardi when Emmett was just 3 months old. I brought him in to see her because I the back of his head was severely flat on one side. After only 6 weeks [of care] his head is so much better. The Pediatrician says he's not even a candidate for the helmet anymore!!
Corrine M.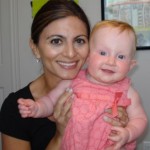 Dr. Lardi was such a blessing to have come into our lives. She diagnosed Macklyn's Torticollis and Positional Plagiochephaly alongside the discovery of a fractured collarbone from a traumatic labour and delivery.
She began specialized treatments right away and within 4 weeks we could see a marked improvement in range of motion, facial asymmetry and correcting of the head shape.
The time, dedication, support and love of her work is truly amazing. I would highly recommend Dr. Lardi to any parent looking for treatment for torticollis and/or plagiochephaly. Her specialized training and knowledge sets her leagues above "regular" chiropractic care.
Jodie D.
Digestion/Jaw Pain
Since I started seeing Dr. Lardi, she has fixed many other health problems I have had. Most of my back pain has gone away (I suffer from scoliosis), she has cured my jaw pain with realignment, has even significantly fixed the clogging in my left ear that I have had since July 2001, and she has helped with my digestive problems. I am so happy and lucky that I have found her, I owe my health to her!
Jennie D.
Post-natal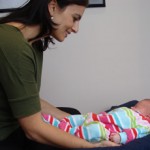 During my pregnancy, I had a separation in the public bone that was debilitating during and after my pregnancy, I was in physiotherapy for three years. After my second pregnancy and delivery, I sought a new method of therapy and have found tremendous success with Dr. Lardi. My pubic bone is almost entirely stabilized and it has been only four months since I delivered.
V.R. Dundas
The care since my delivery has helped me adjust back to this new body shape again as well as provide relief to the many discomforts of late night breast feeding and multiple demands of lifting and carrying this new baby.
Colleen H.
Migraines
I can honestly say that the severity of my migraines has decreased immensely. The fact that in less than 2 months I am seeing more improvements that I have in 3 years, makes me a true believer!
Danielle H.
Wellness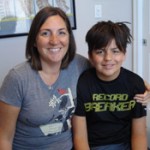 The effects of my sessions went beyond my neck. I have I increased energy each day and found myself to be more focused, allowing me to be more productive each day. I also find that I have become more aware of my posture.
Tara P.
I was amazed how quickly found relief not only from the pain, but a marked essence of wellbeing, strength and flexibility. Emotional and physical stress was released as well. I recommend this office because of the style of treatment. The special attention and recommendations work for life!
Loretta C.
After only less than two weeks of seeing her, I felt normal again. I was no longer sick, and felt human again. I actually haven't been sick at all since then, which is amazing because I had been getting sick every month to two months.
Jennie D.
Low Back Pain & Sciatica
Within the first treatment I felt relief. Now the leg pain is completely gone, I have increased range of motion in my back and neck, I don't wake up in pain every day and I can now do most things I had to avoid before.
Lyndsay B.
Asthma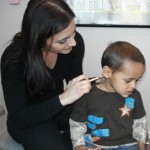 I wasn't sure about having my little guy "adjusted" but after watching her techniques, children's chiropractic visits are completely different from adults. She uses very gentle techniques that Cameron finds fun and silly and her child care also addresses nutrition.
Cameron has been with her for about 2 1/2 months and is already off all of his [asthma] meds, sleeps through the night consistently and I haven't had to take him to the Emergency Room once since we started with her.
Lyndsay B.
Posture
After 6 weeks [of care], I stand erect, my shoulders square and pain free. Even my golf game has improved as a result of full mobility in my shoulders.

After only a few short visits, I could move my neck more (my range of motion improved more than I ever thought possible). I have seen quicker results than I had expected. My posture has improved visibly and I feel the difference.

Dr. Lardi is amazing! She is very knowledgeable and has a clear passion for helping her patients. She explains everything in detail and makes you feel at ease. She is both professional and friendly and I would highly recommend her services, especially for prenatal care.

My son and I are VERY PLEASED with the results! He suffered from curvature of the spine, and sore ankles and knees. He is now able to run with increased agility and play his sports for longer periods of time. Most importantly his posture has improved dramatically.
---
Evolve Chiropractic Wellness Studio – Dr. Laura Lardi, DC Reviews | (905) 631-3000