Acupuncture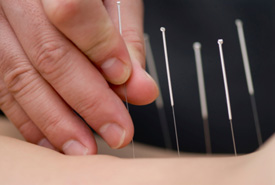 Acupuncture is a method of encouraging the body to promote natural healing and improve function.
Acupuncture has been practiced for more than 2,000 years to treat pain, maintain health and promote healing by stimulating precise acupuncture points on the body, using very fine needles.
Research shows that acupuncture releases endorphins which help to modulate pain, encourage tissue repair, and facilitate healing. Acupuncture helps to unify the body and restore balance to the nervous system.
Benefits of Acupuncture
Muscular Conditions
• Tension & Stress
• Arthritis
• Low Back & Neck Strain
• Muscle Pain & Swelling
• Sciatica
• Frozen Shoulder
• Tennis Elbow
• Work & Sports Injuries
Digestive Conditions
• Constipation
• Diarrhea
• Gastritis
• Colitis
• Irritable Bowel Syndrome
Neurological Conditions
• Headaches & Migraines
• Nerve Pain in Limbs
• Disc Problems
• Rib Neuralgia
• Tension & Stress
Respiratory Conditions
• Sinusitis
• Bronchitis
• Asthma
Female Problems
• PMS
• Menstrual Pain
• Menopausal Symptoms
Are you wondering if acupuncture might give your health the support it needs? Contact us today to find out more.
---
Acupuncture Burlington ON | (905) 631-3000