Pre-Natal & Infant Chiropractic
Baby Evelyn – Colic, Gassy, Fussy Success Story
"I felt a world of relief and was back to my (very pregnant) self in two days. I was able to enjoy my final two weeks of pregnancy rather than feel bed ridden. My only regret is that I didn't start seeing her sooner."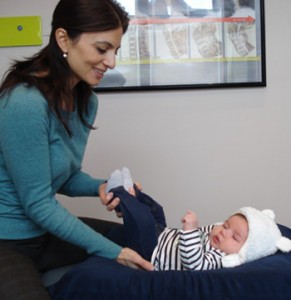 During my final weeks of my first pregnancy, I was in debilitating pain. I had trouble walking and could not bend over (and not because of my growing tummy).
It was a sharp pain in my lower back. My midwife suggested chiropractic or massage therapy. Prior to my pregnancy I was a proponent of chiropractic care and had been treated many times but for some reason, I didn't think it was a good idea as a pregnant woman. I thought it was senseless to get adjusted when my body was still changing. I was severely mistaken. After several expensive massage treatments, I was nowhere close to feeling relief.
I searched online for local chiropractors and found Dr. Lardi. It was a bonus that she specialized in pregnant women and infants. She explained to me that chiropractic care is helpful for pregnant women as it helps maintain balance when your body is always changing. It can also help position the baby for a more comfortable pregnancy. She fit me in the same day I called.
I was also blown away when she called me the next day to see how I was feeling. Though it was her day off, she offered me treatment then so as to speed up my recovery. I felt a world of relief and was back to my (very pregnant) self in two days. I was able to enjoy my final two weeks of pregnancy rather than feel bed ridden. My only regret is that I didn't start seeing her sooner.
After my daughter Evelyn was born, Dr. Lardi offered her a Healthy Baby Check-Up. Evelyn was a wonderful baby that ate and slept well but she did struggle with passing gas. It took forever to burp her and she seemed very upset when trying to have a bowel movement.
Since being adjusted by Dr. Lardi, Evelyn is perfectly content and has no trouble burping or pooping.
Dr. Lardi is a wonderful chiropractor. She is professional yet very personable. I would and have recommended to anyone interested in chiropractic care. She goes above and beyond to ensure her clients are comfortable and feeling relief from whatever is ailing them. I will certainly continue preventative care during my second pregnancy.
Thanks Dr. Lardi.
~ Ashely House
---
Evolve Chiropractic Wellness Studio – Dr. Laura Lardi, DC | (905) 631-3000